By the Development Policy Studies UniPID fosters cooperation between the Finnish research community and the Ministry for Foreign Affairs (MFA) by managing commissioned studies related to development policy. The aim is to identify the most suitable available researchers for each study commissioned by the MFA, and to offer the administrative framework to facilitate and develop reciprocal cooperation between researchers and ministry officials. The current term for the mechanism is two years from the beginning of April 2021.
The objective of the studies on development policy is to increase interaction and diversify the dialogue between researchers and ministry officials. The studies aim to respond to the knowledge needs of MFA officials and offer them different perspectives to the topics they are working with. Thematically, the studies are focused on issues, which have strategic importance for the MFA, or on questions related to operative development policy work or development cooperation. The wider goal is to increase knowledge-based development policy planning, decision-making and development cooperation.
UniPID's role is to identify researchers to conduct the commissioned studies, make contracts with them, and oversee the quality and fluency of cooperation. During the commissions, the researchers are directly in contact with the ministry officials who have commissioned the study.
Potential researchers for conducting the studies will be reached out and identified through UniPID's various communications channels. If you, as a researcher, are interested in conducting a development policy study, we encourage you to register your profile and projects in the Infobank researcher database administered by UniPID, in order for UniPID to more easily identify your expertise. More information and registration at: http://www.unipid.fi/infobank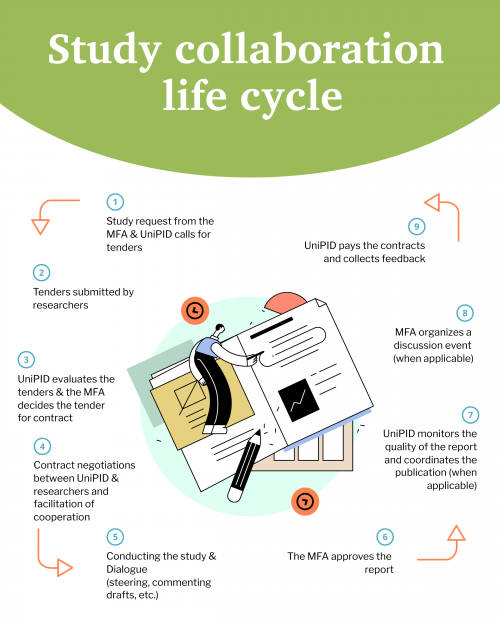 Brackground photo credit: Vincent Aguerre, 2018, on Flickr.