Singapore-Finland Research seminar on Smart Innovations for Health and Education in Singapore 18th October 2016
Singapore – Finland bi-regional research seminar focusing on Science, Technology and Innovation Cooperation in Health and Education was held on October 18th in Singapore. The high level event was organized by UniPID-FinCEAL Plu in cooperation with the Embassy of Finland in Singapore. The event was supported by Team Finland and Finnish Ministry of Education and Culture as well as other relevant entities from Singapore and Finland.
Singapore – Finland bi-regional research seminar focusing on Science, Technology and Innovation Cooperation in Health and Education was held on October 18th in Singapore. The high level event was organized by UniPID-FinCEAL Plu in cooperation with the Embassy of Finland in Singapore. The event was supported by Team Finland and Finnish Ministry of Education and Culture as well as other relevant entities from Singapore and Finland.
The half day seminar gathered together over 70 experts on Health Technologies and ICT in Education and related areas from industry (including business developers, innovators and investors) and academia (including young scientists and experienced researchers), as well as Government representatives and other stakeholders from Singapore and Finland to present and discuss about key health technologies and ICT in Education research aspects. The goal of the seminar was to provide a platform for developing concrete joint innovation and research cooperation initiatives.

The seminar was opened by Professor Patrick Tan from the Biomedical Research Council, A*STAR, Singapore and Mr. Riku Mäkelä from the Embassy of Finland in Singapore. The welcome speeches were followed by a keynote from the former Prime Minister of Finland, Esko Aho who gave an inspiring speech about Singapore-Finland collaboration in global context. After Mr. Aho's speech, the seminar was divided into two parallel sessions, focusing on Health Technologies and ICT in Education.
The Health Technologies session was opened by Professor Tapio Seppänen, from the University of Oulu (Finland) and he gave a speech about cardiorespiratory signal analysis applications. In his speech Professor Seppänen discussed about multi-channel ECG signal processing for heart diagnostics, signal and image processing for brain research, affective computing, E-health solutions for health and wellbeing and cardio-respiratory signal processing for airway obstructions.
The second speaker, Professor Nitish Thakor from the National University of Singapore talked about how brains and machines work together in a case someone has lost an arm and a robotic arm is used as a replacement. Professor Thakor talked about neuro prostheses and touch control and also showed case examples on combining scientific and commercial successes. He also discussed about what kind of algorithms and sensors, chips and cameras are used in linking the human brain to the robotic arm functionality.
The first half of the session was ended by a speech from Dr. Mika Luimula from the Turku University of Applied Sciences (Finland) about gamified solutions in healthcare especially about exergaming experiences in Finland and in Asia. In the beginning of his speech, Dr. Luimula introduced the Finnish gaming industry and Turku Game Lab, and their Gamified Solutions in Healthcare project (-solutions targeted to elderly people) partners from Finland, Singapore and Japan. Dr. Luimula also showed the exergames they have developed and tested together with their partner universities and companies. At the end of his speech Dr. Luimula concluded their future directions in Asia including long term test scenarios, scientific effectiveness and vital business ecosystems.
After the break the session continued with a joint speech from Dr. Matti Hämäläinen (DIMECC International Cooperation, Finland) and Mr. Allan Schneitz (LifeLearn, Finland) about combining health and education in professional training and self-care learning to address the urgent needs in underserved and high-demand areas. In their speech Dr. Hämäläinen discussed about rising costs of the health care and that this challenge is amplified by aging. He also stated that the only way to manage diabetes explosion is a supported self-care based on situational and timely learning combined with daily self-measurements. Dr. Hämäläinen and Mr Schneitz also showed diabetes self-care and community based learning and open platforms to enable communities for learning and care case examples in Southeast Asia.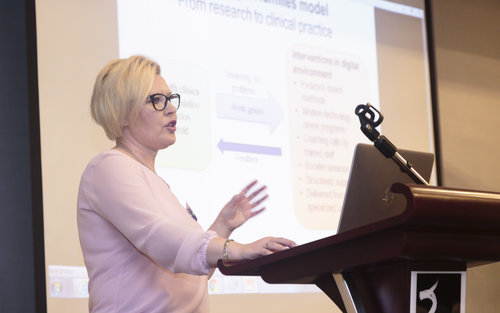 The fifth speaker Dr. Marjo Kurki, from the University of Turku (Finland) discussed about digitalized interventions to prevent the mental health problems of children by introducing their Strategic Research Council at the Academy of Finland funded APEX (Awareness, prevention and early intervention) project. The project promotes the mental wellbeing of families and children, regardless of their socioeconomic environment, geographical location or ethnic background, and aims to bring permanent improvements in mental health awareness and a decrease in the mental health problems that start in childhood. The projects aims to research and provide a digitally delivered mental health literacy program for schoolchildren, their families and the professionals involved in their care and education to research and test evidence-based, low-threshold digitally delivered interventions. Dr. Kurki concluded that when parents are trained online this significantly decreases preschool children's disruptive behavior and therefore it is important to provide low threshold, digitally delivered, family oriented promotion, prevention and early intervention programs in the primary care.
The last speaker of the session, Dr. Hongliang Ren, from the National University of Singapore gave a speech about intelligent surgical robotics with minimal invasiveness. Dr. Ren discussed briefly about the history of commercial surgical robotics and then continued with several challenges in surgical robotics related to the safety management, robotics control (navigation etc.), cameras used, for example in endoscopic imaging, robotics tracking and so on.

In the ICT in Education session Professor Jari Multisilta, The director of the University Consortium of Pori (Finland) gave a speech about learning through collaborative video storytelling and how it inspires creativity, cocreation and global collaboration. Professor Multisilta discussed about digital video storytelling and global sharing pedagogy, video inquiry based learning and higher order thinking skills and structured inquiry as a basis for digital storytelling and what kind of stories the students will create with it.
The second speaker of the session, Professor David Hung from the National Institute of Education (Singapore) discussed about moving from teacher- to student centricity through technology-mediated learning with a systemic perspective. Professor Hung discussed about Centre for Research in Pedagogy and Practice student outcomes and maximizing learner potential and how the research funding in Singapore has increased from just SGD1 million (in 1999) to until SGD118 million (in 2013). Prof. Hung also discussed about Inquiry-based learning through interventions, shifts in pedagogies and practice, Theoretical Framing, "from knowledge transmission and acquisition to knowledge co-creation","from content receiving to appropriating lenses for meaning-making, knowledge building, developing students' scientific explanations, Informal learning, epistemic shift in teachers, from research to practice to mention some key matters.
After the break the session continued with a speech from Professor Hannele Niemi, from the University of Helsinki (Finland) about student's engagement and wellbeing in boundless learning environments at the digital era. I her speech, Professor Niemi compared common issues between Singapore and Finland education systems, Education policy innovations, global skill rankings of the school students including Finnish and Singaporean children, 21st century skills, living-learning communities, well-being and engagement in learning, The new Curriculum Reform process in Finland and schools in digital world and different possibilities for utilizing the use of ICT at schools.
The last speaker of the session, Associate Professor Roberto Dillon from the James Cook University (Singapore) gave a talk about gamification overcoming its challenges in a gamified classroom. Professor Dillon talked about gamification and its intrinsic challenges (separating real life vs. playing, setting up and scaling up a gamified system for enterprises is challenging), and then discussed about gamified classroom for motivating students and how to rethink it.
The sessions were followed by a panel discussion where experts form academia, industry and government discussed about concrete areas cross-cutting themes for collaboration between Singapore and Finland in the scope of digital solutions for health and education. The panelists were Dr. Pauline Tay from the National Research Foundation (NRF) Singapore, Associate Professor Roberto Dillon from the James Cook University, Singapore, Dr. Matti Hämäläinen, Manager, International Cooperation, DIMECC and, as a company representative, Mr. Peter Barkman, CEO, from Palmu.

The panel started with introductions and discussion about some case studies. Dr. Hämäläinen discussed about how to establish open platforms. According to him these are not only technical platforms, but platforms where we can come together with a very low barrier of entry but with a possibility to get tangible results that are important in business and financial sense both in Finland and in Singapore but also globally. He also mentioned generally important things in seminar discussions: Addressing the needs of aging society, by in a way of digital rehabilitation but also different parts of other topics discussed during the seminar e.g. neurotechnology, gaming, data collection and analytics, personalized health solutions, and those related to ICT in education.

Mr. Barkman discussed about design and design thinking. He mentioned new business cases and how should they be shown for people and that they should be kept simple and beautiful so people can easily attach to them. Design thinking: One should take customers seriously and understand what their problems are they are trying to solve. He also gave E-health examples and how to reach everyone with you e-health product. E-learning was also discussed and stated that one should try to understand what ways people really learn better, want to learn better and percieve to learn better.

Dr. Dillon talked about gamification: He said that gaming is everywhere but there are no golden rules to make it work everywhere. One should also understand the needs of the users and group them, what kind of persona and dreams they have in common, and what kind of activities can be more meaningfull and engaging for them. He also discussed about environments for gaming, and e-learning and that health care "Aging gaming people" in Finland and in Singapore differ from each other and have different needs for gaming in exergaming and related learning situations.

Dr. Tay discussed that how do we get health and related field funding support in Singapore. She also mentioned an example where some years ago they started to work with a Finnish team on a support tool for Altzheimer's Disease and health care management of wellness and related applications. She stated that with different cultures you have to tweak the application to match to that whether you are in Finland, China or Southeast Asia. In addition, a lot of Southeast Asian population does not speak English so it is important to work with the local people to tweak the application:
She also said that the basic tools behind gamification are very good, but one has to work as a team to try to customize it for different applications (e.g. for precisely for health and education) and simulations, AR/VR etc. can really be used to train people, not only just kids. It was also dicussed that NRF wants to fund cases that have real "impact".

There was also general discussion about AR/VR applications in the classroom and how research funders feel about that that the investors want to get their money back as quickly and efficiently as possible. Also bringing new technology to the classrooms and changing teachers mindset to make them become changemakers, how to bring education and health together, and mental health research in education, espeically in Singapore, was discussed. The panel ended with thank you words from the Ambassador of Finland in Singapore, Ms. Paula Parviainen.

After the panel session the day concluded with a Singapore-Finland Evening reception joint networking cocktails hosted by the Embassy of Finland in Singapore offering a more informal networking opportunities for experts from both regions.
On 19th of November the Finnish delegation had an opportunity to visit Communication and Informatics Research Laboratory Asia (COOL ASIA), Wee Kim Wee School of Communication and Information (WKWSCI), Nanyang Technological University (NTU). The visit was hosted by Professor Theng's Centre for HEalthy and Sustainable citieS (CHESS). The delegation had an opportunity to discuss about collaboration possibilities between Finnish universities (and enterprises related to the research), and NTU (Singapore), and also to see the research activities at CHESS such as Virtual Exercise Therapist System (VETS).
UniPID-FinCEAL Plus warmly thanks the Embassy of Finland in Singapore for co-hosting the event and the evening reception and also Professor Theng's Centre for Health and Sustainable Cities and COOL ASIA at NTU to make the Finnish delegate visit possible. Special thanks also goes to Team Finland for their support, and all the speakers, panelists and participants for their active engagement. We hope that the event has managed to create links that enable more cooperation between our countries and regions in the near future.
Download the full programme and the concept note of the seminar.
Photos:Jarkko Mutanen and Katariina Träskelin.
Latest posts
March 28, 2023
March 24, 2023