Africa has vast potential in terms of agriculture, bioeconomy and renewable energy. These sectors however are underfunded in terms of research and there is a lot of untapped business potential. Forum for Agricultural Research in Africa (FARA) is the leading African actor in promoting agricultural research and innovation and HAMK is the first Finnish institution to sign a memorandum of understanding with FARA. The visit to Finland that was organized in September was a crucial step in building the cooperation between HAMK and FARA. FinCEAL Plus supported the organization of one of the seminars during the delegation visit. Following the delegation visit to Finland, Dr. Eija Laitinen (HAMK) also attended the 1st African Agri-Business Incubation Conference and Expo in Nairobi with a FinCEAL Plus travel grant to continue with the process of building the collaboration.
Together with the Forum of Agricultural Research (FARA) and Universities Business and Research in Agricultural Innovation (UniBRAIN), Häme University of Applied Sciences (HAMK) organized a week long delegation visit to Finland. The delegation included thirteen business and research actors as well as innovation actors from business incubators from eight African countries. During the visit the delegation met with different Finnish stakeholders from many different sectors - the research community, business sector, entrepreneurs, ministry representatives, students and third sector actors - working on agriculture, bioeconomy, entrepreneurship and innovation.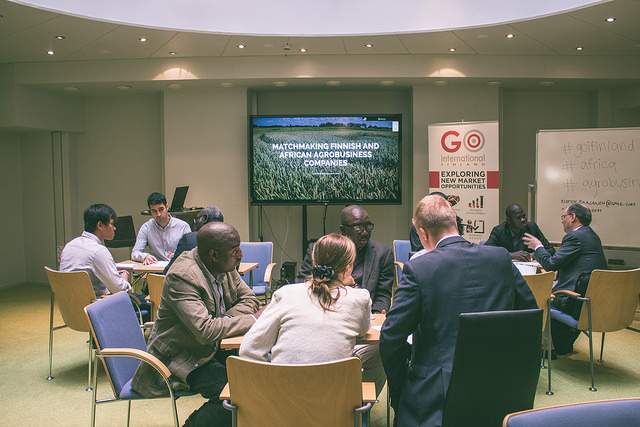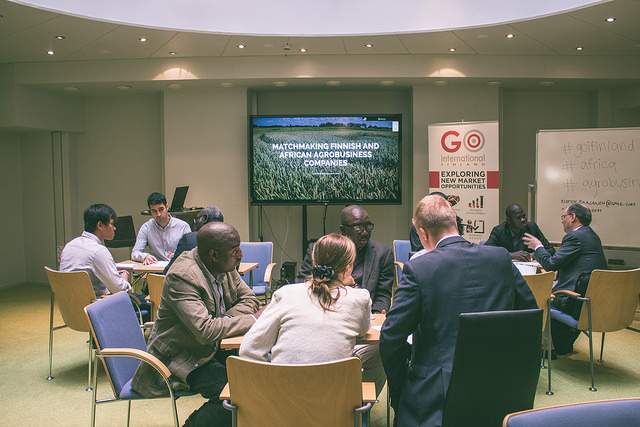 The delegation had a multitude of activities planned for their visit. An overarching theme across the visit was to support entrepreneurship, innovation and networking. The delegation met many Finnish small and bigger businesses in trying to build future cooperation and to promote networking. There were also specific matchmaking events designed to bring relevant actors together with the delegates.
FinCEAL Plus supported and participated the International Business Incubation, Co-creation and Innovation in Agriculture -seminar and mini expo that was organized at the University of Helsinki during the week. The seminar showcased both African and Finnish expertise in the area and also central ministry representative for the Ministry for Foreign Affairs and Ministry of Agriculture. The aim of the seminar was to also look into the future and to explore a strategic way forward.
A lot of the materials from the delegation visit is available on the HAMK website. You can find the links below.
Short biographs of FARA/UniBRAIN delegates
Incubator and partner profiles
For more information please visit www.hamk.fi/agribusiness or you can contact Eija Laitinen (HAMK, Tel. 050 585 3933, eija.laitinen@hamk.fi) or Peter Kuria (HAMK Tel. 040 768 3440, peter.g.kuria@gmail.com)


Partners:
Impact Iglu, Makery, ThinkAfrica, GOInternational, Shalin, UniPID/FinCEAL Plus, LUKE (FoodAfrica) FIBREPRO
Photo Credits in order of appearance Siru Perälä 2015, Hang Lee 2015, Siru Perälä 2015.